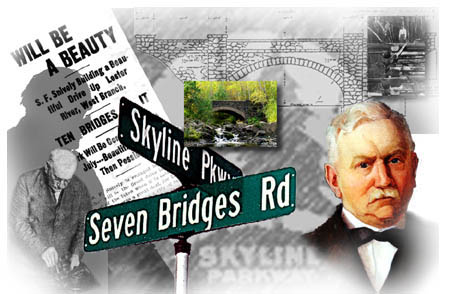 The History of Duluth, Minnesota's Seven Bridges Road
Page 5 of 7
---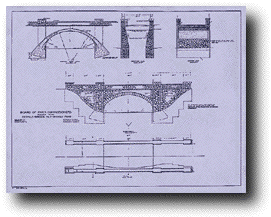 Blueprint plans for Bridge#7 along Snively Road, Duluth, Minnesota. 1910. (Morell & Nichols Collection. NW Architectural Archives, St. Paul, MN)
Snively involved himself in the planning and building of the bridges, including the selection of materials. He often attended park board meetings, and tagged along with park board commissioners on inspection tours of the the work's progress.
Bids were solicited and several first class stone masons were hired, and over the next year, nine stone-arch bridges were built simultaneously, under the supervision of park board secretary Henry Cleveland, and civil engineer Carl Meyers, a recent graduate of the University of Minnesota.
(Duluth News Tribune Photos/Northeast Minnesota History Center, Duluth, MN)
Each bridge had a concrete and reinforcement bar arch structure, and was artistically faced with native stone either collected from the creek bed or else quarried from outcrops along the roadway.
Bridge #5 (above) was the highest and most expensive stone-arch built. With its double arches thirty two feet above the channel, and sixty-seven foot span, it cost over $9000, nearly triple the price of the next most expensive bridge (#4). The seventh bridge was the least expensive, costing the city just under $1800 to construct. Spans #8 and #9 were built together for a single cost of $3705. (Duluth News Tribune Photo/Northeast Minnesota History Center, Duluth, MN)
Six-inch stone copings detailed the length of the bridge wall, and topped each pier. The copings consisted of pink opal granite quarried near St. Cloud, Minnesota.
The original plans called for ten stone-arch bridges to be built, but the tenth bridge was down-sized to a simpler structure made of iron pipe and cement. It served as a connection between the parkway and Snively's farm.
PREVIOUS PAGE
NEXT PAGE
Web Pages © 1999-2008 Mark Ryan. All color photographs by Mark Ryan. © 1998, 1999 Mark Ryan. Photographs credited to William Overland Collection or to Douglas Overland Collection are © William Overland, and © Douglas Overland, respectively.