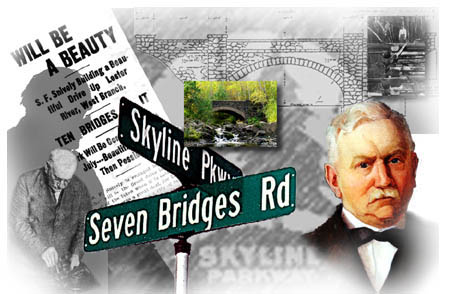 The History of Duluth, Minnesota's Seven Bridges Road
Page 4 of 7
---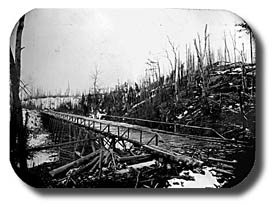 Rustic bridges (left and below) built by Snively and his road crew span across the stark, late winter landscape, c. 1900. (Douglas Overland Collection)
Despite its popularity as a scenic parkway, the city of Duluth neglected to maintain Snively's road, and within a decade all the wooden bridges had fallen to ruin, making the road impassable to vehicle traffic.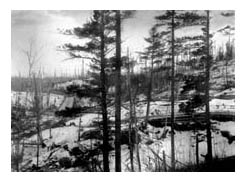 In 1910, the road's destiny changed for the better when it was handed over to the Duluth's park commission, and a new plan for it's rejuvenation was developed.
The park board hired an architectural landscaping firm to design a new series of bridges for the road. In the fall of that year, the firm of Morell & Nichols of Minneapolis presented the park commissioners with sketches and blueprints for nearly a dozen new stone-arch bridges to replace the wooden ones Snively had built.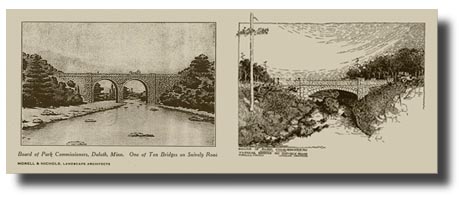 Morell & Nichols sketches of two proposed stone-arch bridges. Bridge #5 is shown on the left. 1910. (Morell & Nichols Collection, NW Architectural Archives, St. Paul, MN).
During 1911, the roadway was regraded and graveled, and several first class stonemasons from the Duluth area were hired to build the bridges simultaneously.
When completed, the newly refurbished road would become an official part of the Duluth's boulevard system. News of the park board's intentions delighted Snively, for the plans were exactly what he had in mind when he first built the road.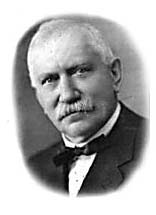 "When the park board decided to take over and improve this roadway, it greatly pleased me, for it assured the consummation of the very purpose I had in view, the appropriation by the city for park and boulevard purposes of some of the scenic and natural park property in and about the city...Our possible park system rightly developed will be the city's greatest asset and advertisement."

-Samuel Snively
The above statement by Snively would prove to be self-fulfilling. Destined to serve as Duluth's mayor during the 1920s and 1930s, he did more during his 16 year reign to develop and promote the city's parks and boulevards--especially Skyline Parkway--than any other individual in the city's history.
PREVIOUS PAGE
NEXT PAGE
Web Pages © 1999-2008 Mark Ryan. All color photographs by Mark Ryan. © 1998, 1999 Mark Ryan. Photographs credited to William Overland Collection or to Douglas Overland Collection are © William Overland, and © Douglas Overland, respectively.