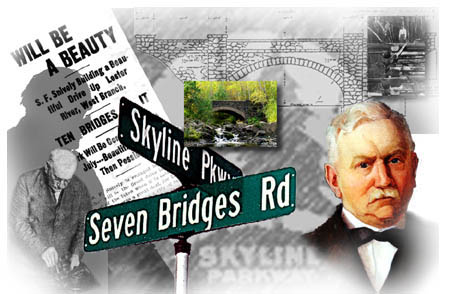 The History of Duluth, Minnesota's Seven Bridges Road
Page 2 of 7
---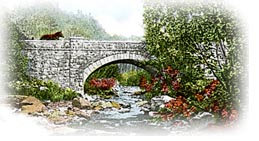 Each bridge is faced with native basalt and bluestone rock collected from the creek bed or blasted from nearby outcrops. The cap rocks consist of pink opal granite quarried in St. Cloud, Minnesota. The origin of the bridges was, for many years, lost in city records and mis-information.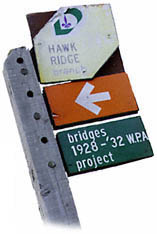 Long-standing information sign located near Bridge #6, incorrectly stated the bridges origins as a Works Progress Administration (WPA) project and built between 1928-1932. The WPA didn't come into existence until 1935, and the structures were actually built more than two decades earlier. The sign was removed in the early 1990's.
The drive was built by Samuel Snively, a Duluth pioneer who owned a large 400 acre farm in the back country above Duluth suburbs of Lester Park and Lakeside. His quaint hilltop farm was well-known for its thoroughbred stock and the beauty of its layout, which included a glimpse of Lake Superior through the nearby Amity creek valley.
Snively often took leisurely hikes through the valley, exploring the woods on both sides of the ridge line overlooking the east end of Duluth. He enjoyed following Amity creek as it wound its way back and forth through rhyolite gorges and over basalt ledges creating numerous tumbling waterfalls in its descent toward the Lake Superior.
During these strolls, Snively began to envision a park drive that would rival any other in Duluth. A strong park building trend had infected much of the United States during the last half of the nineteenth century, resulting in the establishment of many national, state, and urban parks across the country. Duluth, of course, was not immune to the trend. History of Skyline Parkway.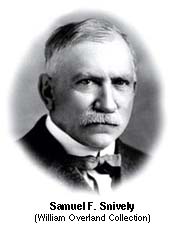 A lawyer and real estate developer who made and lost many fortunes in Duluth's early days, Snively was also the city's longest serving mayor, in office for sixteen years during the 1920's and 1930's.
Donating sixty acres of his own property, Snively set to work contacting all the other landowners in the area, successfully garnering donations of the necessary rights-of-way for his road, as well as some of the necessary monies to build it.
A crew of workers from the surrounding countryside was hired and construction on Snively's road began in the late fall of 1899 and continued into the following summer.
The road crew started its work at the junction of Oriental and Occidental boulevards, two carriage paths that ran through and alongside the boundaries of Lester Park, a city park in east Duluth.
"We built the road north from Lester Park, including the bridges, and for a distance of about two and a half miles beyond and then stopped suddenly in a heavy bank of clay, feeling the need of financial refreshment."

-Samuel Snively.
Postcard scenes around Lester Park, c. 1910. Amity falls (aka The Big Deeps ) (left), rustic bridge built by park policeman, John Busha (middle), and pathway along creek, (right). GET QUICKTIME to play videos.
Occidental Boulevard still exists today as a city street at about 61st Avenue East in Duluth and serves as an entrance to Seven Bridges Road and Skyline Parkway.
PREVIOUS PAGE
NEXT PAGE
Web Pages © 1999-2008 Mark Ryan. All color photographs by Mark Ryan. © 1998, 1999 Mark Ryan. Photographs credited to William Overland Collection or to Douglas Overland Collection are © William Overland, and © Douglas Overland, respectively.